'The Power of A' by Greg Melia CAE
The Power of A
ITN Productions Industr

y News USA and ASAE team up to inform people about 'The Power of A'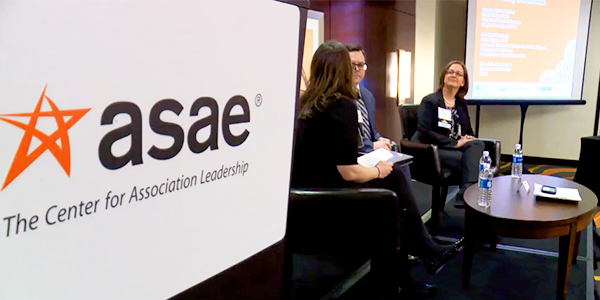 The American Society of Association Executives (ASAE) has been advocating on behalf of the association community for nearly 100 years. Associations are big business in America.  According to ASAE's paper 'THE POWER OF ASSOCIATIONS: An Objective Snapshot of the U.S. Association Community', the US recognized 66,985 trade and professional associations, which collectively contributed to $142 billion in revenue generated by the sector.  Associations are active in economic growth, facilitating innovation and trade; advancing workers' skills; implementing programs and impacting policies that strengthen America's safety and security.
In 2009, ASAE recognized that a new platform was needed to help unite the association community and provide a common language to describe the value that associations provide to the US and world economy, regardless of sector or profession. 'The Power of A' was born. At around the same time ITN Productions began its Industry News service, designed to help associations tell their story through custom, broadcast-quality video programs.  Both programs have received strong industry support and grown significantly since inception.  This year, the two agreed to a unique collaboration to leverage ITN Productions Industry News' capabilities to further enhance 'The Power of A's activities in 2017.   
The heart of the initiative's message is that associations make a difference in every corner of the US, and in every industry. To highlight this ASAE created a series of videos saluting a limited number of the award winners from 'The Power of A Summit Awards', they also created a corporate video to support the concept. ITN Productions Industry News USA identified an opportunity to enhance the reach and resonance of 'The Power of A' initiative. Each year, ASAE invites association executives from across the country to Washington, DC for 'American Associations Day'. Over the course of a day and a half, these participants discuss issues of vital importance with one another and their Congressional representatives. This March, ITN Productions was on hand to capture highlights on film. By combining this unique footage with ITN Productions' archive of Industry News footage, we were able to create an engaging social media piece that helps leverage and extend 'The Power of A' message.
Take a look at the video:      
This video has been widely shared on Twitter, Facebook, and LinkedIn, garnering well over 3,000 views. It is also featured on 'The Power of A' website.  Coverage of 'American Associations Day' is the first of several planned events as part of the collaboration between ASAE and the ITN Productions Industry News USA team.  Mark your calendar to join us at ASAE's Annual Meeting and Exposition, August 12 – 15 in Toronto, Canada and at the 18th Annual The Power of A – Summit Awards Dinner at the National Building Museum on October 4, 2017.
The collaboration between ITN Productions Industry News and ASAE's 'The Power of A' is an excellent example how we can amplify your strategic communication priorities together. To explore potential collaborations with your association, please contact Simon Shelley (simon.shelley@itn.co.uk) for UK and European opportunities, and Greg Melia CAE (greg.melia@itn.co.uk) for US opportunities.